Hot water heat pumps are the cheapest way to heat hot water available in Ireland today. A mature technology in Europe these units are becoming more and more popular in Ireland due to the low installation cost and even lower running costs. DOWNLOAD BROCHURE
Glenergy supplies the Kronoterm range of hot water heat pumps to Ireland. These are consistently the most efficient hot water heat pumps in Europe which isn't surprising considering Kronoterm's quality manufacturing ability and premium standards.
Hot water heat pumps are cheaper to install than solar panels but give the same savings of about 70% reduction in hot water heating costs. They produce hot water all year round summer and winter maintaining a full tank of hot water at all times.
Hot Water Heat Pumps in New Build Houses
Hot water heat pumps are perfect in new buildings. As new builds are extremely well insulated the amount of energy required for heating radiators is very small. In fact in a typical semi D the energy required to heat hot water is the same as the energy required to heat the house! For this reason it pays to install the most efficient water heating system available – the Kronoterm hot water heat pump. See a video below from the Seagreen development in Greystones, one of the many new build installations that our hot water heat pumps are installed in.
How Hot Water Heat Pumps Work
They work simply by using the waste air within a house and using it to power the heat pump that comes as part of the hot water cylinder. Unlike solar thermal systems there is no need for extensive pipe runs or for any installation of panels on a roof which require weather proofing. A common installation in a domestic home would be to extract humid air from a bathroom as the source of air for the heat pump but it is possible to extract from anywhere including the outside

Hot water heat pumps and Ventilation
Ventilation is extremely important in all houses, modern and old, but it is often overlooked. Poor ventilation can cause condensation and mould build up on walls and ceilings. When mould is present in buildings it can cause a serious health risk. By extracting the moist air that is present in bathrooms the hot water heat pump eliminates this issue and improves ventilation within the building.
Hot Water Heat Pumps and Dairy Farms
Dairy farms use a lot of hot water for washing equipment so hot water heat pumps are ideal for dairy farms as they produce hot water at the cheapest rate available. They are also easy to install as direct replacement for an existing water heating cylinder. A TAMS grant is also available for these heat pumps as it is upgrading a water heater. See the video below for a testimonial from a dairy farmer in Limerick who saw a reduction of 66% in his water heating costs after he installed a hot water heat pump from Glenergy.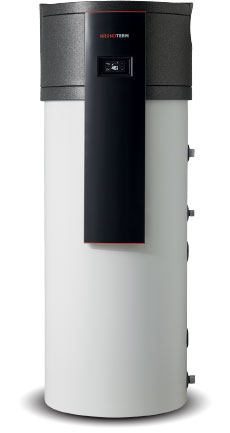 Hot Water Heat Pump
Cheapest way to heat water
Extrememly High Efficiency
COP 3.5 to deliver 55 DegC water
EN16147 Eco Design certified
Web enabled controls
200L / 300L / 450L versions
Contact Us For More Information